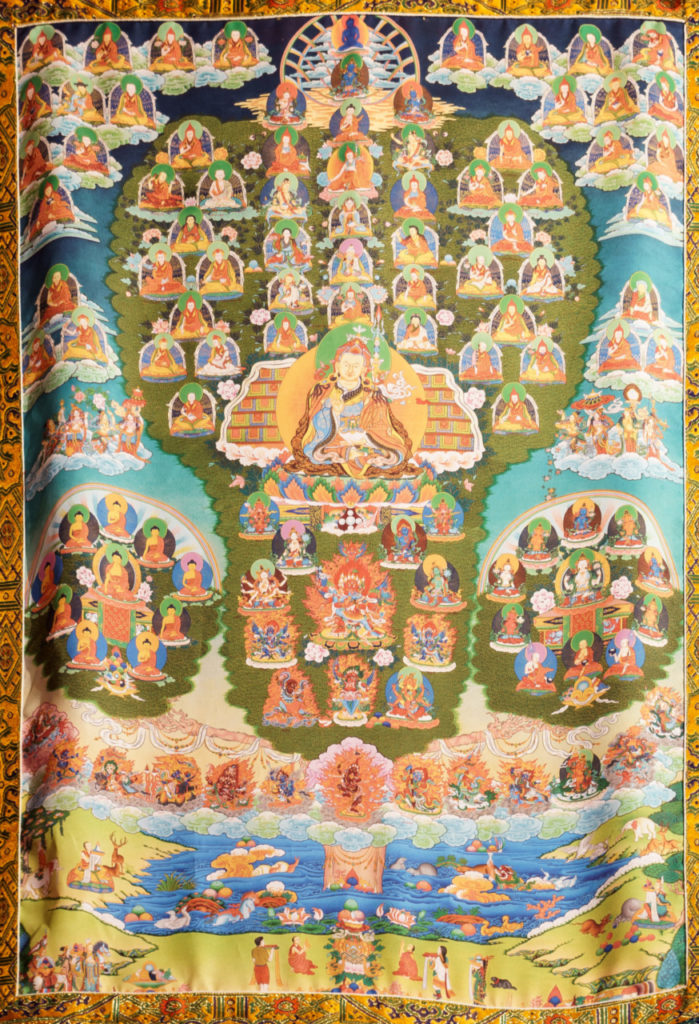 Katog Monastery, officially called Katog Dorje Den (also phoneticized as Kathok or Katok), is one of the six mother monasteries of the Nyingma tradition of Buddhism in Tibet. After the initial presence of Buddhism was almost entirely obliterated by an anti-Buddhist king in Tibet, Katog was the first monastery of the old tradition (Nyingma) to be constructed. Later, other main Nyingma monasteries, such as Palyul and Shechen, were established.
Located in Kham, a province in eastern Tibet, Katog Monastery sits at an elevation of 13,100 feet. Before the Chinese Cultural Revolution, Katog had more than three hundred branch monasteries, of which approximately 150 remain, both
inside and outside of Tibet. Khentrul Rinpoche's family monastery, Katog Mardo Tashi Choling, is one of the four main branch monasteries within Tibet, and Katog Choling is an affiliated center based in the United States.
A Brief History
Originally, Katog monastery was built on top of a rock where Guru Rinpoche (Padmasambhava) sat when he visited the area. The rock had the shape of a double vajra, with the Tibetan syllable "Ka" naturally emerging on top of it. Katog was named after this rock, because "Ka" is the first letter of the Tibetan alphabet, and "tog" means "on top of." Katog Dorje Den is considered one of the twenty-five sacred sites of Guru Rinpoche in the Kham region. Prophecy states that over 100,000 practitioners will attain rainbow body in the Katog lineage.
Katog was initially founded in 1159 A.D. by Katog Kadampa Deshek (Dampa Deshek, b. 1122. The original monastery fell into disrepair and was rebuilt on the same site in 1656 through the impetus of two treasure revealers, tertöns Düdül Dorjé (b. 1615) and Rigdzin Longsal Nyingpo (b. 1625). After 1966, the monastery was destroyed during the Cultural Revolution and many of the lamas were imprisoned. After he was released from prison, Katog Moktsa Rinpoche was the principal figure who spearheaded the rebuilding of the monastery with help from other Katog lamas.
Abbots and Masters of Katog
From the time Katog Monastery was established, many great masters have contributed to upholding the monastery and the lineage. One of the main sequence of recurring abbots throughout its history have been five masters who are called "the Five golden throne holders" of Katog, who continue to reincarnate as the principal teachers to oversee the main monastery. They are Katog Moktsa Rinpoche, Katog Zhingkyong Rinpoche, Katog Getse Rinpoche, Katog Chaktsa Rinpoche, and Katog Gonyen Many other great masters and head lamas of the monastery are alive today, including Katog Lhoga Tulku, the eighty-fourth lineage holder (following the founder Dampa Deshek), who visited the United States in 2002. Many contemporary masters have lived for periods of time in, and received a dharma education at, the mother monastery of Katog, including Do Khyentse Yeshe Dorje, Dzongsar Khyentse Chokyi Lodro, Khenpo Ngakchung, Chatral Sangyay Dorje Rinpoche, and others.
More info can be found at the Nyingma Kathok Buddhist Centre website.