Katog Mardo Tashi Choling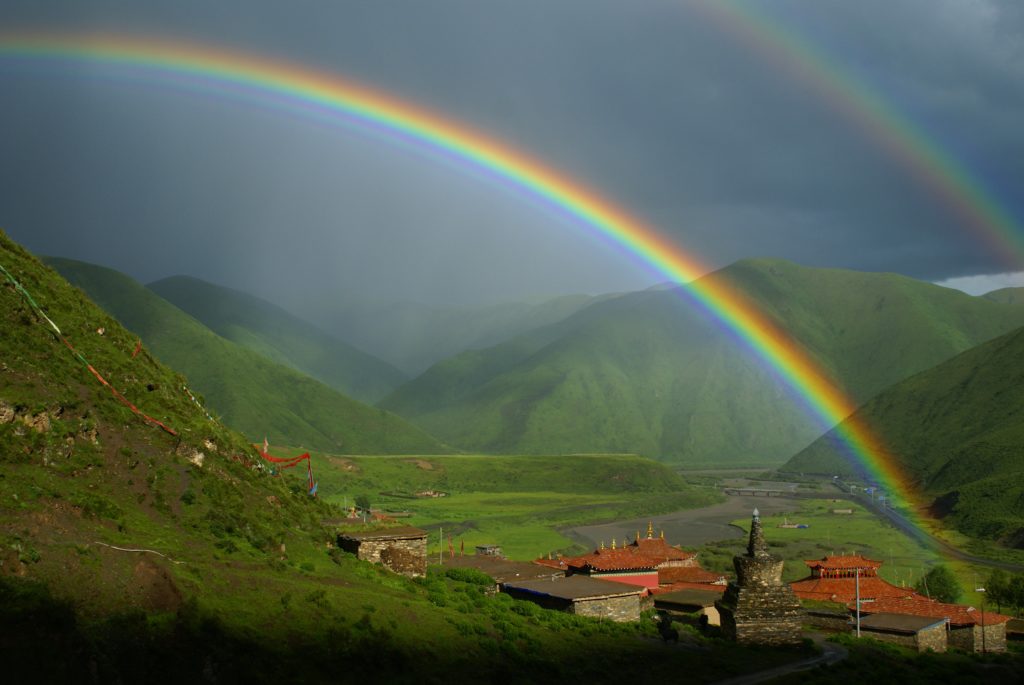 Mardo Tashi Choling – located in the Golok region of Amdo, Tibet – is the monastery of Khentrul Rinpoche's family. Built more than two hundred years ago, it is one of the four main branch monasteries of Katog Monastery.
Residents: Monastics
Today more than three hundred monks are associated with the monastery. One hundred sixty are full-time residents, twenty are in solitary retreat, eighty are in shedra (an institute for advanced study in Buddhist philosophy), and sixty are child novices. The monastery's monks have taken extensive vows which include not harming any other being. They devote their lives to the study, contemplation, and practice of the dharma for the benefit of others. The retreatants work to benefit others by remaining in strict solitude and meditating on the dharma.
Shedra: Buddhist Philosophical Studies
Shedra is an intensive study program of Buddhist philosophy, equivalent to the journey from secondary school through doctoral degree. The shedra students also hold monastic vows. They engage diligently in study, contemplation, and meditation on Buddhist philosophy and practice texts for the purpose of bringing widespread benefit to others.
Drubdra: Three-Year Retreat Center
Drubdra, in Tibetan, is a traditional three-year, three-month meditation retreat in the Tibetan Buddhist tradition. Such a retreat is undertaken by serious practitioners who wish to devote themselves entirely to practicing the path following a core curriculum of specific sequences of meditations done only in the context of retreat. Currently ten monks have committed to ten straight years of retreat, seven years above and beyond the traditional three-year program.
Education for Children
Many of the children residing at the monastery are orphans or come from families too poor to support them. Through the generosity of Khentrul Rinpoche's international students, educational opportunities for local children to receive a Tibetan education, both secular and religious, have been created.
Community
More than a thousand families in the region are affiliated with the monastery. Most of these lay practitioners have also taken refuge and bodhicitta vows, making a commitment to refrain from harming living beings and to benefitting others. They strive to cultivate the intention that all sentient beings be freed from suffering and pain, and that they enjoy abundant peace and happiness.
History of Some of the Practitioners and Abbots of Katog Mardo Tashi Choling
Mardo Tashi Choling was the home of the great treasure revealer Dudjom Lingpa (1835–1904) and the succession of reincarnations of Katog Dampa Rinpoche, starting with Gonpa Lama Chökyi Dorje.
Throughout its history many other renowned and accomplished lamas, scholars, and practitioners have lived at the monastery, including the great Terton Jigme Dorje, Gonpa Lama Chökyi's third emanation. The principle masters have been Gonpa Lama's blood lineage, including many of his sons, as well as the reincarnate lamas of his blood lineage. One of the most famous was Gelong Namkhai Nyingpo's reincarnation, His Holiness Katog Chaktsa Rinpoche. Katog Chaktsa was one of the great golden throne holders of the mother monastery of Katog, and a reincarnation of one of Guru Rinpoche's (Padmasambhava's) twenty-five heart disciples. He served as Mardo Tashi Choling's abbot until his death.
Khentrul Rinpoche was recognized as the reincarnation of Katog Chaktsa Rinpoche by his uncle, head abbot (gön-pön lama) Terton Jigme Dorje. Khentrul Rinpoche's family members (called Gonpa Tsang) are all descendants of Gonpa Lama [gön-pön lama] ; they have been upholding the monastery for generations.
Reconstruction and Maintenance
During the Cultural Revolution in Tibet, the entire monastery was destroyed. Today much of the monastery has been restored, including two temples and a residential space for 160 monks. Over the past twenty-one years the generosity of Khentrul Lodrö T'hayé Rinpoche's students world wide has supported the rebuilding of the monastery, including the main temple, a shedra with both classrooms and dorm rooms, new kitchens, monk's quarters, and children's education. Other additions include a library, an office, and prayer wheels. An important goal of the monastery is that traditional representations of the Buddha's enlightened body, speech, and mind (statues, tangkas, texts, and stupas) continue to be produced and preserved for future generations.
Support
The restoration projects and all of the monks, retreatants, and young students at Mardo Tashi Choling are supported financially by the generosity of Khentrul Rinpoche's international students through donations and through the sponsoring of pujas (ceremonies) practiced by the monks. When necessary, the monks seek support from their families or through the traditional practice of receiving alms for necessities. We also have the opportunity to sponsor monks and retreatants at Mardo Tashi Choling.
Please visit the donations page if you would like to make a donation or to sponsor a monk, retreatant, or child.